---
Launched
March 16, 2017 - TrackCourier.io launched today, providing an automated way for the users to track packages and get delivery status notifications. No longer people have to deal with tracking numbers and track packages on individual websites of different courier companies. With TrackCourier.io, users can track all of the shipments in one single place. TrackCourier.io offers free service for everyone and supports about 50 different couriers. In future, we plan to extend the support about 1000 different couriers across the world.
Through a simple and intuitive user interface, TrackCourier.io can automatically track about 50 couriers worldwide, allowing users to get the real-time information of their packages, all in one place. Users can also subscribe to get the email updates for individual shipments. The notifications are issued as soon as the package goes in transit, is out for delivery or is successfully delivered.
---
Solving a Real Problem
According to a survey by a global tech company, 47% of global online shoppers faced challenges with their ecommerce deliveries. Because customers are not informed when the package is out for delivery, they are usually worried whether they will miss the delivery or if package will be left outside at the front door. Customers usually have to go through the hassle of finding out at the courier's website which is highly inconvenient.
Tracking packages is very time consuming and usually requires a hard to remember tracking number. Not only is it highly inconvenient for the package receiver, the shipper also spends a lot of time and resources in looking up the required information. Moreover, the tracking number has to be remembered by both shipper as well as receiver. TrackCourier.io eliminates these hassles with a solution that is simple and scalable.
---
How it Works
OneClick Tracking ™
A sender can simply share the shipment's tracking link with the receiver and without any further action, the app will display the most recent location of the parcel. TrackCourier.io will automatically remember the tracking numbers of all existing and future packages. The user has to simply visit his account's page. The account page remembers all the shipments that were ever tracked by the user. Any shipment can be tracked from the accounts page through OneClick Tracking™. TrackCourier.io supports all major couriers such as DHL, FedEx, UPS and many more.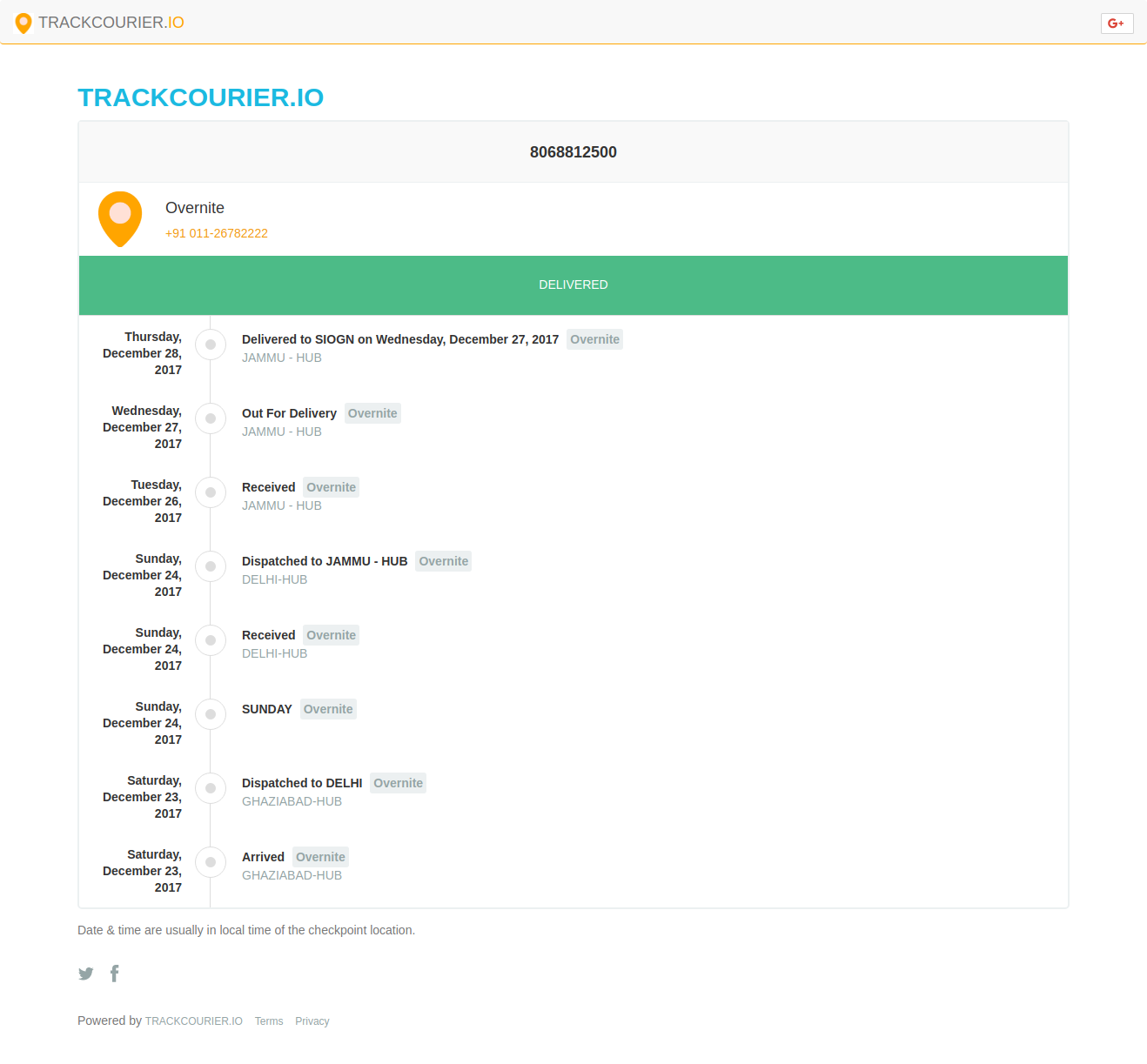 All in One Place
TrackCourier.io automatically detects status of about 50 couriers and enables user to see the status of all shipments in one place.
Notifications
A user can enter his email and get notified of any changes in shipment status.
---
TrackCourier.io provides an automated way to track packages and get delivery status notifications. Users no longer need have to deal with tracking numbers and track packages on the individual courier's website. With TrackCourier.io, online sellers can also extend their customer service after the purchase by sharing the tracking link thereby reducing customers' questions about the status of their shipment's delivery. TrackCourier.io is free for everyone and plans to support over 1000 different couriers worldwide.